Realtime alerts and password protected chat portal
Chat directly with advocates/admissions

Share/request documents

Set up transfers

Receive status notifications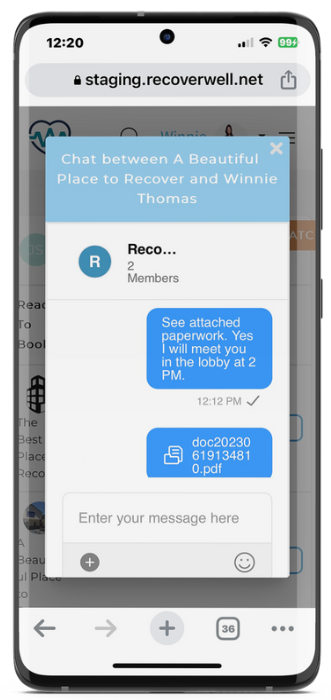 RecoverWell slashes the amount of time spent on exploratory phone calls by 95%, ensuring patients get to the right provider for their needs.
Without RecoverWell, phone calls can take an average of 90 minutes each to:
Determine availability
Verify insurance
Discuss patient criteria
Assess the patient
Time-stamped, digitized authorization forms that can be stored on the cloud and uploaded to your EMR system
Cyber-secure information transfers
Access is password protected

All information is stored in the cloud

AWS security infrastructure

Documents can be uploaded into EMR/CRM systems
RecoverWell makes everything happen on one cyber-secure, HIPAA compliant platform that eliminates the need for the phone, fax and emails.
*RecoverWell keeps private patient information secure and out of the hands of body brokers.
RecoverWell's cloud-based software can be accessed on your phone, tablet or desktop so you can stay in communication wherever you go.
Are you ready to reimagine healthcare with RecoverWell?